Non-Obstructive Ventriculomegaly
·
Agenesis of corpus callosum- Dysgenesis of the corpus callosum ranges from complete to partial absence and may be detectable on ultrasound in utero from about 17 weeks onwards. The ventriculomegaly associated with ACC, termed 'colpocephaly' is due to poor development of the cerebral cortex. The ventriculomegaly in ACC is much more pronounced in the occipital horns. The cavum septum is absent, the lateral ventricles are placed wide apart. The third ventricle may herniate upwards between the two displaced lateral ventricles. Associated anomalies include trisomy 13 and 18, DWM and holoprosencephaly.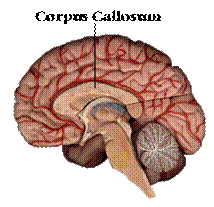 ·
Colpocephaly- This condition is often associated with agenesis of the corpus
callosum or holoprosencephaly and is the term applied to ventriculomegaly due to inadequate development of the cerebral cortex. The pressure within the ventricles is normal.
·
Holoprosencephaly- Holoprosencephaly is produced with non-development of the two cerebral hemispheres and ventricles. It is subdivided into three types: alobar, semilobar and lobar. Alobar is the most severe. In the semilobar type sonography reveals a mono-ventricle with rudimentary occipital horns which connects with the dorsal sac. The thalami are usually partially fused. The lobar type is the mildest type with partial division of the lateral ventricle, fused anterior horns but fairly well separated occipital horns. The head size may be enlarged, small or normal. Associated anomalies are common, including chromosomal.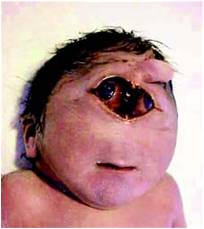 Holoprosencephaly
·
Hydranencephaly- There is no discetnable cerebral cortex. The most striking sonographic feature is an almost fluid filled cranium with a 'monoventricle.' The falx is usually present but the thalami are absent. The condition is not inherited and has no associated anomalies.