Dandy –walker malformation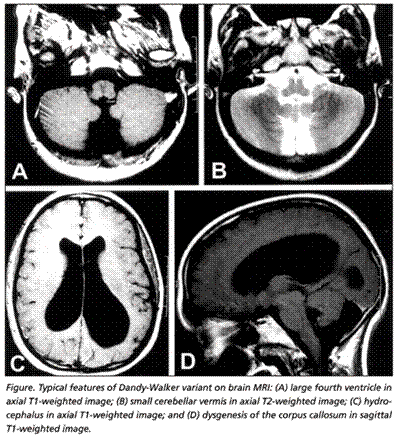 ·
'Classic' - Triad of cystic dilatation of the fourth ventricle, communicating with the posterior fossa cyst; complete or partial agenesis of the cerebellar vermis; enlarged posterior fossa with displacement of the tentorium, torcular and lateral sinus.
·
Dandy-walker variant- Cerebellar dysgenesis with varying degrees of hypoplasia of the cerebellar vermis with normal sized posterior fossa. Ventricular dilatation may occur. The cerebellar hemispheres may be hypoplastic.
·
Mega-cisterna magna- An enlarged cisterna magna with a normal cerebellar vermis and fourth ventricle. The cerebellum may be hypoplastic.
·
Associated anomalies- Associated anomalies occur in 70% of cases of Dandy—Walker malformation. These include: corpus callosum dysgenesis, subependymal neuronal heterotopia, polymicrogyria, agyria, schizencephaly, lipoma of corpus callosum, encephalocele, lumbosacral meningocele, vermian hypoplasia and posterior fossa dermoid cyst. Chromosomal abnormalities are also associated.