Causes of Polyhydramnios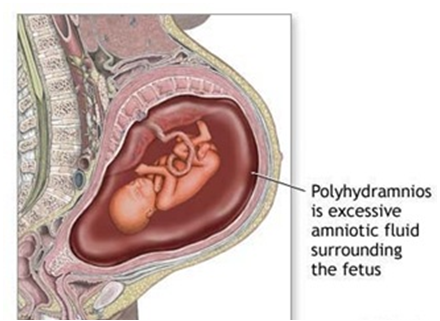 Idiopathic- In 60% of pregnancies complicated by PH no fetal or maternal abnormality is present.
Maternal abnormality
Diabetes mellitus
Obesity
Rhesus incompatibility
Anemia
Congestive cardiac failure
Syphilis
Fetal abnormalities
a)

Twin pregnancy-
This is commonly related to twin-twin transfusion in monochorionic twins. An acute PH has been described, characterized by rapid accumulation of AF resulting or fetal demise. In 'Stuck twin' one sac may have PH while the other has OH. PH may be associated with conjoined twins.
b)

CNS abnormalities-
Usually occur in the third trimester.
Anencephaly- Single most common fetal anomaly causing PH.
Hydrocephalus- 84% of fetuses with hydrocephalus have other associated abnormalities.
Holoprosencephaly- Absence of falx and fusion of the thalami differentiates from other forms of fetal hydrocephalus.
Encephalocele-
Hydran encephaly- Absence of forebrain and replacement by CSF as a result of in utero vascular accident.
Neural tube defect- Menincoele
Dandy-Walker malformation- Usually with associated abnormalities.
Agenesis of corpus callosum- Usually with associated abnormalities.
Lissencephaly-
(c) CVS abnormalities
Fetofetal transfusion syndrome- Most common syndrome associated with PH in twin pregnancy.
Fetal hydrops- Both immune and non-immune.
Cardiac arrthmias- Usually resulting in cardiac failure.
Myocardial disorders
Umbilical cord knots
Ventricular septal defects
Coarctation of aorta
Interruption of fetal aorta
Truncus arteriosus
Ectopia cordis
Placental chorioangioma
High output lesions, e.g. teratoma
(d) Thoracic abnormalities
Cysticadenomatoid malformation
Primary pulmonary hypoplasia
Diaphragmatic hernia
Congenital chylothorax
Mediastinal/lung mass, e.g. teratoma
Tracheal atresia
Thymic hypoplasia
Pulmonary sequestration
(e) GIT abnormalities- Any condition that impairs swallowing abnormalities lowing may be associated with PH, including structural abnormalities such as cleft lip and palate, bowel atresia and neuromuscular disorders such as myotonic dystrophy.
Cleft lip and palate
Esophageal duodenal and jejuna atresias- Atresia of distal bowel may present as multiple dilated loops of bowel. It is important to differentiate these from hydronephrotic kidneys.
VACTERAL
Congential panceartic cysts- may cause compression/obstruction of bowel.
Omphalocele- PH is presumably secondary to small bowel obstruction.
Gastroschisis- It is important to differentiate this entity from omphalocele because of a better prognosis.
Annular pancreas*- May cause compression/obstruction of duodenum.
*
Meconium peritonitis
Bowel perforation
Craniolingual teratoma
Hepatic tumours
Megacystis—microcolon—intestinal hypoperistalsis syndrome
Congenital choride diarrhea- Appearance similar to intestinal obstruction are seen.
(f) Musculoskeletal abnormalities
Achondroplasia — homozygous
Achondrogenesis
Arthrogryposis
Osteogenesis imperfecta Hypophosphatasia
Short rib—polydactyly
Asphyxiating thoracic dystrophy
Platyspondyly
Camptomelic dwarfism
Thanatophoric dwarfism
(g) Urinary tract anomalies- Usually result in oligohydramnios and urinary ascites from ruptured bladder or kidneys in bladder outflow obstruction.
Vesicoureteric reflux
Uretropelvic junction obstruction
Congenital mesoblastic nephroma
(h) Infections*
e.g. Coxsackie
Toxoplasmosis
Cytomegalovirus
Parvovirus
Syphilis
*Infections may be associated with non-immune FH
(i) Metabolic disorders*:
Inborn errors of metabolism
Gaucher's disease
Gangliosidosis
Mucopolysaccharidosis
Gangliosidosis (GM1)
*These conditions are likely to be associated with non-immune FH
(j)Chromosomal anomalies
Trisomy 16—18- The most common trisomy associated with PH is trisomy 18.
Trisomy 13—15
Trisomy 21
45X- Associated with cystic hygroma (nuchal) ascites and FH.
4p- Associated with microcephaly, several skeletal dysplasias, CNS anomalies, diaphragmatic hernia and intestinal malrotation.
(h) Hematological abnormalities
Anemia- This may be related to bleeding or haemolysis.
Polysplenia-
(l) Neck masses- They may cause extrinsic compression of the esophagus and impairment of swallowing.
Cystic hygroma- Often associated with chromosomal abnormalities.
Cervical teratoma- PH may be related to obstruction and or a high output lesion giving rise to FR. It appears as a solid/cystic mass with punctate calcification.
Congenital goitre- Solid symmetrical anterior neck mass.
(m) Miscellaneous conditions
Sacroccoccygeal teratoma- May have a similar appearance to myelomeningocele; differentiation can be made by demonstrating an anterior pelvic mass and an intact spine.
Ovarian cyst- This may cause intestinal obstruction, which may be incomplete or intermittent.
Lethal multiple pterygium syndrome- Associated with neck webs, skeletal dysplasia, genital and palatal anomalies.
ABS- PH may be related to GIT obstruction or CNS abnormalities.
Roberts' syndrome- May be associated with cleft lip/palate, skeletal dysplasias and genital abnormalities.
Noonan's syndrome- Associated with multiple system abnormalities but contributory factors towards PH include GIT renal anomalies, chylothorax nuchal cystic hygroma and skeletal dysplasias.
Beckwith Wiedemann syndrome- Associated with marcoglossia, omphalocele, organomegaly and microcephaly.