Absence of Fetal Calvarium
·
Anencephaly- A common neural tube defect with a female preponderance of 4:1. Sonography reveals absence of brain and calvarium superior to the orbits. However, the appearance may be altered by the presence of rudimentary fibrovascular tissues superior to the orbits. These appear echogenic and may be quite sizeable in some fetuses. The cranial defect is symmetric in almost all cases. There is an association with hydramnios in the third trimester in 35% of cases.
·
Acrania- This is a rare anomaly distinct from anencephaly. There is partial or complete absence of the cranial vault. Brain tissue is always present but it may be abnormal. Thus the presence of brain tissue on sonography helps to differentiate from anencephaly.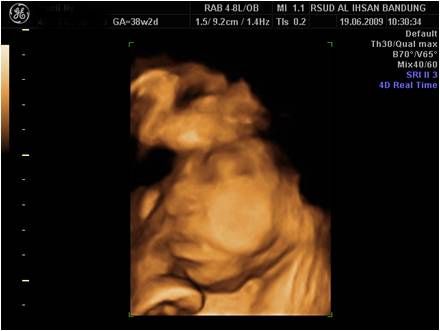 Acrania
·
Amniotic band syndrome- If the cranium is affected in amniotic band syndrome, the amputation defect is invariably asymmetric. Other fetal parts may be involved, e.g. limbs, body wall, spine, etc. The amniotic band may be visible sonographically.
·
Severe microcephaly- Microcephaly, when severe, may mimic anencephaly; however, one can always identify a cranial vault and frequently cortical brain tissue. With anencephaly both the vault and brain tissue are missing.
·
Exencephaly and cranioschisis- These are rare anomalies in which the brain tissues lie outside the cranium through a variable cranial defect.
·
Holoacardious acephalic twin- This is a rare occurrence and can represent a true anencephalic anomaly. The entire cranium may be lacking or there may be severe microcephaly. This condition occurs only in identical twins.
·
Poorly mineralized cranium- Defective bone mineralization in conditions such as osteogenesis" imperfecta and congenital hypophosphatasia may result in poor definition of the cranial vault on sonography. Careful scanning almost always shows a thin but deformed calvarium with normal underlying brain tissue.
Back to Fetal Skull and Neural Axis